Starter Controller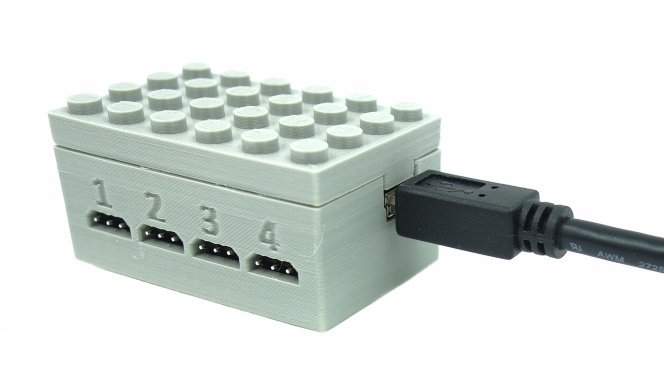 Product Details
DESCRIPTION
The Starter Controller is the ideal controller to begin automating your layout. It allows you to power and control two servo motors, one train traffic light and one train detection sensor. It connects to a computer with a USB cable. It doesn't need a separate power supply, it takes its power from the USB port. You can connect multiple controllers to the same computer; our nControl software is designed to handle multiple controllers. You can also simultaneuously use controllers of different types: starter controllers, quad switch controllers, etc.
---
CONNECTIVITY

---
---
---
USB CABLE
The USB cable needs to be able to bring sufficient power to the controller to actuate the lights. Therefore, the controller requires a 24/28 AWG USB cable; that is a cable with 28 AWG data lines but thicker 24 AWG power lines. If you use a standard 28 AWG USB cable (28 AWG power lines) you'll be able to communicate with the controller but you will not be able to use the lights. The Starter Controller comes with a 1.8m / 6ft USB cable. However, if you want to use your own cable or a USB extension cable, make sure you use a 24/28 AWG type USB cable.
---
WARNING
The Starter Controller is powered by the USB port to which it is connected. USB ports of computers provide only a limited amount of power. Always use a powered USB hub to ensure the Starer Controller has sufficient power for the connected components. Furthermore, most USB ports don't have a fuse, to protect your computer always use a USB hub that has over-current protection.
---
FAQ
How many controllers can I use ?
It depends... the actual limit is the number of USB devices you can connect to a computer - that limit is 127. As no system has that many ports, you need USB hubs to multiply them. Note that each USB hub is a device as well and is one of the 127 that you can connect. So the number of controllers you can connect depends on the USB hubs that you're using. Assuming that you have a USB mouse and keyboard:
if you use 5 port USB hubs, you can connect 85 controller using 25 USB hubs.
if you use 7 port USB hubs, you can connect 107 controllers using 18 USB hubs.
So from a practical point of view, the number of controllers that you can use is not really limited.
---
QUESTIONS
Don't hesitate to
contact us
if you have questions concerning our starter controllers.
Sets
The starter controller is available as 4DBrix™ part 2.01.004.


Other Monorail Automation Products
Other Monorail Automation Products
Other Monorail Automation Products