| | |
| --- | --- |
| | Control Buttons |
We're currently making the first batch of control buttons. If there are no hiccups they will become available in July!
Below you see a chain of a power brick with two control buttons. The power brick has a red/green LED that provides feedback on the power usage so you know when you're reaching the maximal length of your control button chain. It now also has an on/off switch: the green 1x2 plate.




The final version of the buttons has 5 connection pins. The first two pins provide 5V power to the control button and the devices controlled by the button. The 3rd pin provides 9V power; this give us the option to create additonal buttons to control PowerFunctions or PoweredUp motors. The 4th and 5th pin are for data transmission between the buttons. This will eventually allow you to add a WiFi brick and establish communication between the buttons and a computer running nControl. That is of course optional, the control buttons can run standalone!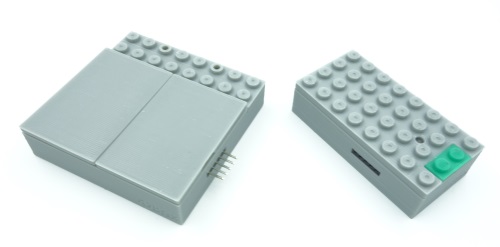 If you're interested in our control buttons, you can let us know which buttons you need to build your control system. There's no purchase obligation, we'll just let you know when they are available so you can buy them before they are officially released in our webshops.