Product Details
DESCRIPTION
The track switch motors are compatible with the LEGO® 9V and RC/PF track switches. To install them on your track, simply remove the yellow lever of the track switch and click on the 4DBrix™ track switch motor. The motors come in two variants; one for the left-turn and one for the right-turn switches. The track switch motors are powered by a 4DBrix™
Quad Switch Contoller
or
Starter Contoller
and can be controlled with our free
nControl
automation software.
These motors are also fully Arduino compatible, so you can also connect them to your own Arduino based control system.
---
TYPES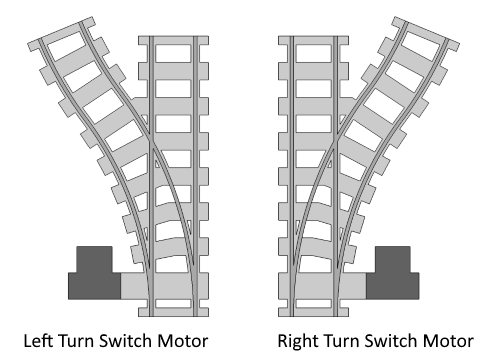 ---
COLOR
Dark Bluish Gray; the track switch motor match the color of the PF switches.
---
---
REFRENCE
Information on how to control these motors with your own Arduino board can be found in our
reference manual
.
---
QUESTIONS
Don't hesitate to
contact us
if you have questions concerning our track switch motors.
Sets
The track switch motors are available as 4DBrix™ part 2.02.001 (right) and 2.02.002 (left).


Other Automation Products
Other Automation Products
Other Automation Products
Fatal error
: Uncaught Error: Call to undefined function addAllProductsLink() in H:\root\home\lauwagie-001\www\site1\products\train\track-switch-motor\index.php:159 Stack trace: #0 {main} thrown in
H:\root\home\lauwagie-001\www\site1\products\train\track-switch-motor\index.php
on line
159